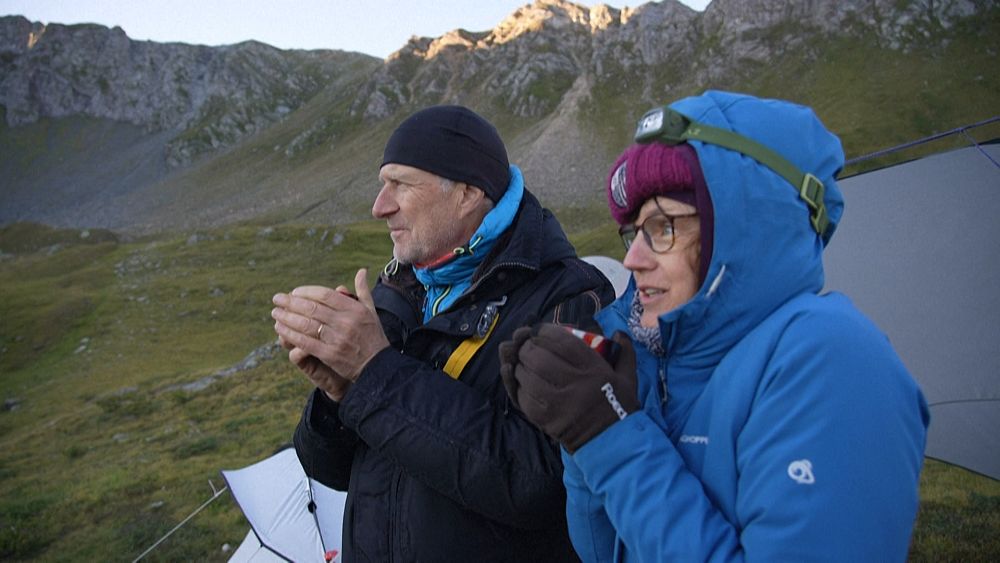 Volunteers stay up through the night to protect livestock.
After centuries of absence, wolves were first spotted back in Switzerland in 2012.
Since then their population has continued to grow. It was estimated that there were around two dozen packs at the start of this year, with some 250 individual wolves counted.
And while nature preservation groups hail it as a win for nature, farmers aren't happy as attacks on their sheep herds have also risen.
In 2022, 1,480 farm animals were killed by wolves in Switzerland alone.
In response, Swiss authorities, who last year authorised the cull of 24 wolves and population control of a further four packs, last month relaxed the rules for hunting the protected species.
And with news of wolf attacks on livestock dominating the summer headlines, the Swiss Farmers' Union has urged more hunting permits to be issued to take advantage of the laxer ordinance.
Biologist Jérémie Moulin came up with an idea to protect the wolves, whilst appeasing the farmers.
How are volunteers protecting wolves and sheep?
The Organization for the Protection of Alpine Pastures (OPPAL) is a Swiss NGO which protects wolves by helping to chase them away from sheep.
Jérémie co-founded the organisation in a bid to help promote and improve cohabitation between wildlife and human activities, at a time when swelling wolf populations had emotions running high.
Protecting wolves in Switzerland
Aliki Buhayer-Mach and her husband, François Mach-Buhayer, are among the hundreds of volunteers working for OPPAL.
A biologist and a leading cardiologist by profession, they form an unlikely shepherd couple, spending the night watching over 480 sheep in remote Swiss mountains near the Italian border.
"Our goal is that by the end of the summer season, the livestock are still alive… and the wolves too," says OPPAL director Jérémie Moulin.
Using a powerful torch, Aliki momentarily drenches a nearby mountain top in light, straining to see if wolves are lurking in the shadows.
If the predator were to get past the electric wires stretched around this high altitude pasture in the Swiss Alps, the 57-year-old biologist knows "it would be a massacre".
How to scare off wolves
The couple began volunteering right from the creation of OPPAL, and now do two five-day stints in various locations every summer.
"It's our vacation time," François said, looking around the desolate spot, reached after a four hour drive from Geneva and a nearly two hour hike up a steep, rocky path.
At 2,200 metres (7,200 feet) above sea level, temperatures quickly plunge as the sun sets.
Using a tarp, the couple have created a lookout shelter, equipped with camping chairs, thermal blankets and a propane coffee maker to get them through the night.
François explains that it's best to work in pairs. One person uses binoculars from a vantage point to look out for danger whilst another patrols closer to the flock with a flashlight and whistle.
A bright light and a loud whistle is enough to scare off a wolf, according to François.
All through the freezing cold night, they take turns scanning the horizon with thermal, infrared binoculars every 15 minutes for signs of animals moving towards the flock of resting sheep, their bells chiming softly in the darkness.
"You have to look often, and you have to look well," Aliki said, "because the wolf can see us in the darkness and knows when to try its luck. And when it moves, it moves extremely fast."
Can you really protect sheep from wolves?
Up to 400 volunteers are taking part in OPPAL's monitoring programme this summer, spending nights camped out in mountain pastures, watching over grazing sheep and calves.
Shepherd Mathis von Siebenthal appreciates the effort.
"It is such a big help," he said after delivering the flock to Aliki and Francois for the night.
"If OPPAL were not here, I would be always… thinking if the wolf is coming or not. This way, I can go to sleep."
OPPAL director Jérémie Moulin said volunteers on average chase off wolves once every 20 nights, with 32 such events registered last year.
"We may not change the farmers' point of view, but we want to create collective knowledge, to get people to work together and foster dialogue," he added.
Watch the video above to learn more about wolves in Switzerland.