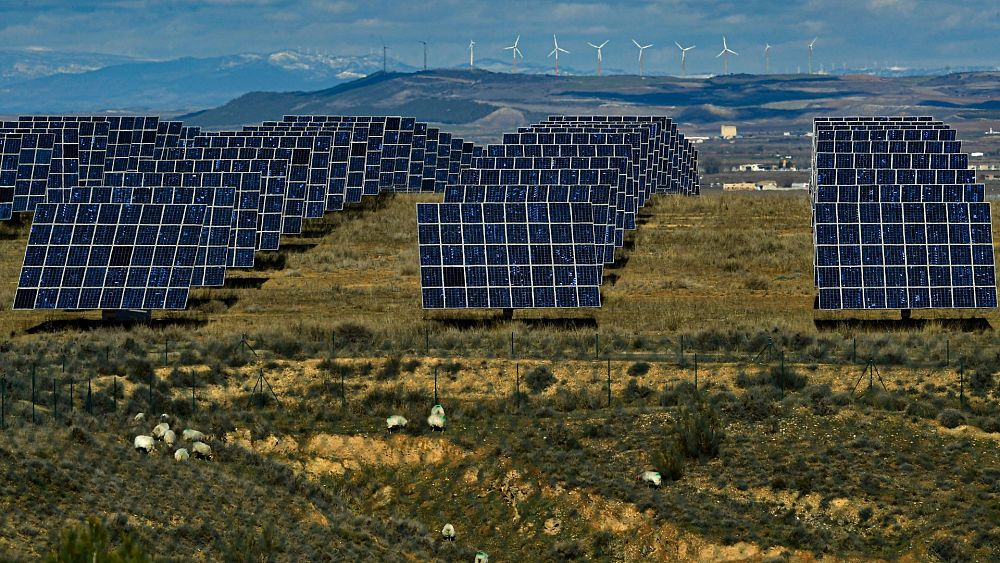 Free train tickets, renewables and coal plant closures: Why we're celebrating Spain's environmental achievements this month.
This summer's relentless heatwaves, wildfires and weather extremes have thrust the climate crisis into the spotlight in Europe and beyond.
The need to decarbonise our energy systems and protect our environment has never been clearer.
Each country has its unique challenges and resources that influence its road to net zero. But celebrating one another's successes can help inspire and pressure our own politicians to follow suit.
These are our previous Green countries of the month: Albania, Denmark, Iceland, Austria and Portugal. This month, we're celebrating a European country whose green ambitions hang in the balance.
Spain is on the frontline of the climate crisis and it has made strides in environmental policy in recent months and years.
Since finally introducing the country's first climate law in 2021, the ruling Spanish Socialist Workers' Party (PSOE) has set progressive emissions reductions targets and increased renewable energy production in the country.
Following July's snap election the country's future is uncertain. But here's why Spain has our vote of confidence, as Green Country of the Month for August.
Spain is moving away from coal and towards renewables
Spain is accelerating towards a coal-free power sector, with plans to phase out the polluting energy source by 2025 – five years earlier than initially planned, as announced in June.
This month, it was confirmed that the country's biggest coal plant, located in As Pontes, Galicia, is due to shut down by August 2024.
This will make way for renewable energy projects that leverage Spain's abundance of sun and wind.
The country is on track to generate more than half of its power from renewable sources this year. This will make it the first of the top five European countries by power demand – including France, Germany, Italy and the UK – to accomplish this feat, according to Rystad Energy. The research company says this comes down to a history of strategic investments and early adoption of technologies like onshore wind.
Under an update requested by the EU, Spain released a revised version of its energy and climate plan in June, which is currently out for public consultation. It increases emissions reductions targets by close to 10 per cent (to 32 per cent) by 2030. It also almost doubles the amount of solar power expected to be rolled out by the end of the decade.
While this is a significant hike, however, some climate campaigners say its goals still lack ambition and have called for a 55 per cent emissions reduction target in line with the EU's wider target.
By 2030, renewables could account for 48 per cent of the energy mix and 81 per cent of electricity generating capacity in Spain, bolstering the country's energy security.
"Spain is already generating around 50 per cent of its power from renewables, and coal workers could have a bright future thanks to its Just Transition strategy," says Alexandru Mustață, campaigner at nonprofit Beyond Fossil Fuels.
Eight of the country's high-carbon regions have already secured access to the EU's Just Transition fund – a record among all countries under this scheme. The fund aims to ensure the transition towards a climate-neutral economy is fair and leaves no one behind.
Energy company Endesa's 1,468 MW As Pontes coal plant will be replaced with renewable energy ventures, including a 1 GW wind project that's set to create 1,300 jobs in the region.
However, the country is yet to set concrete closing dates for its four remaining coal plants, so there is still a way to go.
Spain is incentivising sustainable transport
Transport accounts for around one-fifth of CO2 emissions globally, with planes contributing the most to pollution.
Spain is leading the way for sustainable transport in Europe with its radical rail transformation. In a short period, the country has tripled its high-speed ​​operators, partly by embracing the EU's plan to liberalise Europe's railways.
By opening up its railways to competition over the past few years, Spain has nurtured a train network capable of rivalling budget airlines in price, speed and regularity.
Various discount train ticket schemes have also encouraged people to travel more sustainably.
In September 2022, the country launched free train travel on commuter and regional lines to encourage people to ditch their cars in favour of public transport.
In the first two months of 2023, it saw passengers on Renfe's commuting trains increase by almost 36 per cent compared to the previous year. The use of regional trains increased by more than 87 per cent in the same period.
The scheme has been extended until December 2023, after which a permanent version may be introduced depending on its effect on traffic and emissions reductions.
This summer, the Spanish government also slashed the price of bus and train tickets for young people by up to 90 per cent and capped the price of high-speed train services at €30 per ticket. Interrail passes have been discounted by 50 per cent.
The €170 million scheme is available to 18-to-30 year olds and runs until 15 September.
Why Spain's green transition is at risk
In last month's snap general election, neither the ruling Spanish Socialist Workers party (PSOE) nor the conservative People's Party (PP) secured an absolute majority. The two opposition parties must now battle it out to form a coalition government.
PSOE already made its green ambitions clear when it adopted Spain's first Climate Change and Energy Transition Law in 2021, which included the target of reaching climate neutrality by 2050.
The party's renewable energy, biodiversity, transport, recycling and water management policies support this goal and the EU's Green Deal.
The PP aims to water down these targets to make them more attainable for businesses, threatening to slow Spain's green transition. Its climate policies could be compromised further if it forms an alliance with the climate change denying far-right Vox party.
The two parties are now racing to find allies to join them in forming a new government. The PP's close association with Vox could hurt its chances of gaining support from more moderate parties. While PSOE would need to lean on Basque and Catalan pro-independence parties to secure a majority.
90 per cent of Spaniards are very or quite concerned about the climate emergency, according to a poll carried out last year by Spain's Center for Sociological Research (CIS).
What is Euronews Green's country of the month?
Each month we highlight a European country that is advocating for climate, nature and the environment. Our Green Country of the Month can stand out for anything from eco-innovations to policy change.
If you're feeling encouraged by a European government-led initiative in September – please do reach out to us on social media, either on Instagram or Twitter.