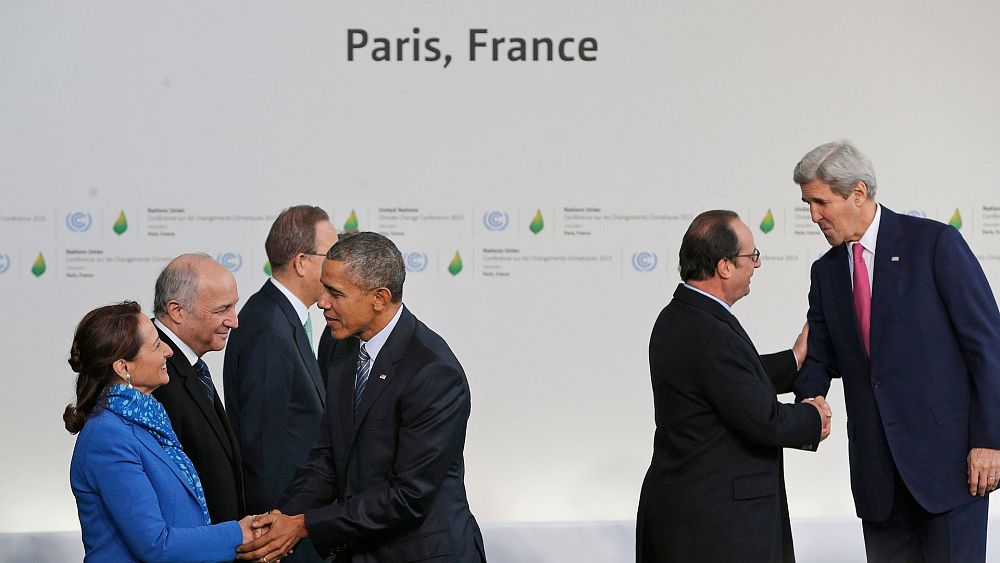 September 6, 2023

Staff

0
Are countries sticking to the Paris Agreement? The UN is about to find out.
Almost eight years ago, 193 states and the European Union entered into the Paris Agreement.
The legally binding international treaty on climate change aims to limit global warming to 1.5°C above pre-industrial levels, among other goals.
So are we on track to meet that target?
That's the question the United Nations' first-ever Global Stocktake aims to answer.
Like taking inventory, it will evaluate the collective progress countries have made towards achieving the Paris Agreement's goals.
The two-year process began in 2022 and is due to take place every five years under the terms of the agreement.
What is the Global Stocktake?
The UN Global Stocktake will assess what actions need to be taken to reach the Paris Agreement goals.
It was included in the agreement to hold countries accountable for the climate targets they set themselves. It also serves the agreement's 'ratchet mechanism', which aims to ensure actions against climate change become more ambitious over time.
Over the past two years, the individual strategies – or Nationally Determined Contributions (NDCs) – of each country have been analysed.
Other information, including countries' climate adaptation plans, financing and technological needs has been gathered, alongside scientific reports and analysis on climate change.
All of this information is being analysed by experts and country delegates, and condensed into a series of summary reports and takeaways.
The stocktake's findings will then be used to help countries assess and strengthen their NDCs. This will underpin discussions at the COP28 climate summit in November.
Why is the Paris Agreement important?
The Paris Agreement's goal is to prevent the worst impacts of climate change.
Signatories have agreed to keep "the increase in the global average temperature to well below 2°C above pre-industrial levels" and try "to limit the temperature increase to 1.5°C above pre-industrial levels."
Currently, warming sits at 1.1°C – a rise that has already led to extreme weather including heavier rainfall and more intense heatwaves and droughts like those seen in Europe this summer.
Even with this level of warming, adaptation is needed to help people and ecosystems cope.
At 1.5°C of warming, about 14 per cent of the world's population will be exposed to severe heatwaves at least once every five years, according to an IPCC report published in March this year. This rises to 37 per cent at 2°C of warming.
At 2°C, 61 million more people would be exposed to severe drought than at 1.5°C, while 50 per cent more people may see increased climate change-induced water stress.
Sea level rise, ocean warming, and habitat loss for plants and animals will also be significantly greater.
A warming planet means more heat-related deaths, vector-borne diseases and food insecurity, further impacting human health and livelihoods.
These effects are only set to worsen as temperatures continue to rise, with varying impacts around the globe. Disadvantaged communities, those in living lower latitudes and city dwellers are likely to be worst affected, according to the IPCC.
Why is the Global Stocktake important?
Last year's UN Climate Change Report revealed that countries' current climate pledges put us on track for 2.5°C of warming by the end of the century. Urgent action is needed to avert this.
Not only will the UN's Global Stocktake assess our collective progress in meeting the Paris Agreement's goals, but it will also highlight where we are falling short.
This will help policymakers identify where stronger action is needed on climate change and "course correct".
The stocktake aims to pinpoint barriers and provide "feasible, effective and low-cost" actions to help countries slash planet-heating emissions.
"If we act now, we can still secure a liveable, sustainable future for all," says the United Nations Framework Convention on Climate Change (UNFCCC).
What needs to happen to limit global warming?
Global emissions need to be nearly halved by 2030 for the world to limit global temperature rise to 1.5°C, according to the UN.
To achieve this, human-made greenhouse gas emissions must peak before 2025 at the latest and decline 43 per cent by 2030.
This will mean reducing our reliance on fossil fuels by transitioning to renewable energy and EVs, improving energy efficiency, reducing food waste, curbing deforestation and restoring ecosystems.
What else will be addressed at COP28?
As well as discussing the results of the Global Stocktake, COP28 in November will address other climate-related issues.
These include loss and damage funds, which see rich nations help vulnerable developing countries combat and mitigate the immediate effects of climate change.
Countries will also debate how to achieve a just transition to renewable energy, among other climate-related issues.