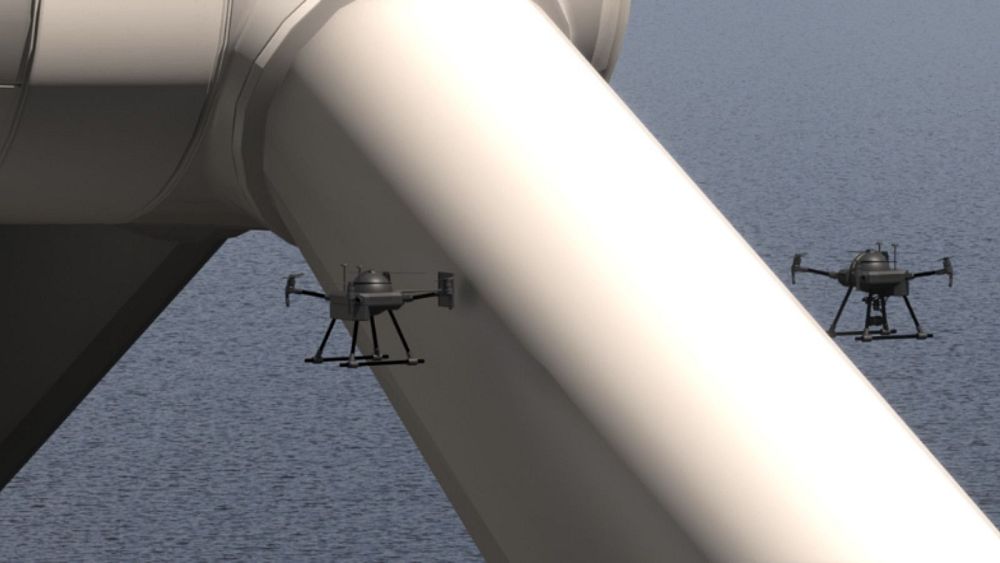 September 12, 2023

Staff

0
Wind turbine maintenance could soon be carried out by drones and AI, improving costs and safety.
Drones and AI have just got a new job in the green energy transition: checking wind turbine blades.
Currently, wind technicians need to climb wind turbines and manually check each blade for damage, fractures and other issues.
It can be dangerous work, especially far out at sea. And for wind farm owners, these frequent inspections account for a large portion of their operational costs.
But robotics could make wind turbine blade inspections faster, cheaper and safer, according to the new project from Dutch research organisation TNO and tech company SpectX.
"It is a prime example of how human innovation and AI-driven technology can work together on maximising performance and sustainability," according to the announcement from TNO today.
How can drones and AI work together?
Drones are already humming around wind turbines to inspect their blades by taking pictures.
But the Increased Blade Inspection Safety (IBIS) project takes things a step further by flying two autonomous drones in tandem, and using X-ray technology to scan every inch of a blade.
The radiographic images from the scan are then interpreted and enhanced through AI coding, before the data is fed into a 'digital twin' model.
A digital twin is simply a copy on a computer of an existing turbine or wind farm, TNO explains. The copy tries to reflect reality as closely as possible in order to predict maintenance needs.
This fully digital replica of the turbine blade takes into account all factors of the actual blade. It knows the environmental loads the blade is subjected to, for example, such as wind gusts.
How far can the new tech help unleash wind power?
"Wind power is perhaps the most important technology for Europe's decarbonisation," Paweł Czyżak, senior energy and climate data analyst at think tank Ember previously told Euronews Green.
Policy is the biggest factor holding wind energy back in some countries. But innovations like IBIS that can help maximise the performance of wind turbines are a welcome part of the puzzle too.
Researchers hope the project will offer "many benefits" to wind farm owners.
Besides the significant cost and time savings, TNO says that "safety hazards are also drastically reduced because rope access inspections can mostly be avoided."
Initial trials on a turbine blade on the ground were successful and the first pilot field inspections will take place soon, it adds.