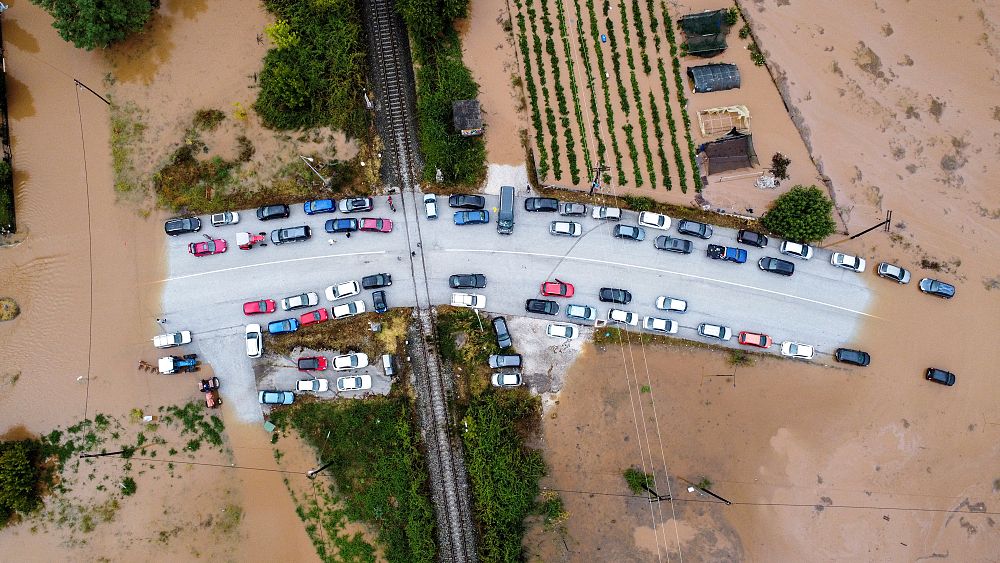 September 13, 2023

Staff

0
There have been deadly storms in almost as many days in September so far, as climate scientists warn that "nowhere is immune".
We're barely into autumn and the world is already reeling from the impacts of numerous catastrophic floods that scientists say are being supercharged by climate change.
As many as 20,000 people may have perished in the floods that hit Libya on Saturday, according to the director of a medical centre in Al-Bayda town. Libya's floods, also worsened by crumbling infrastructure, followed the arrival of Mediterranean Storm Daniel.
This so-called 'medicane' had already caused death and devastation in Europe as it made its way through Greece, Turkey and Bulgaria last week.
"While no formal attribution of the role of climate change in making Storm Daniel more intense has been conducted yet, it is safe to say that the Mediterranean sea surface temperatures have been considerably above average throughout summer," Dr Karsten Haustein, a climate scientist at Leipzig University told UK newspaper the Guardian.
Storms draw more energy from warmer seas, while a hotter atmosphere holds more water vapour that can fall as rain, leading to more extreme deluges.
From Brazil to China, countries around the world have been battling ferocious, climate-fuelled floods since the start of September. 
Where has Storm Daniel caused deadly floods?
15 people lost their lives when Storm Daniel made landfall in Greece last week. Days of cataclysmic rainfall that began on 4 September burst dams, washed away roads and hurled cars into the sea.
Some central regions received twice the average annual rainfall for Athens in the space of just 12 hours.
The Thessalian plain, which is home to a quarter of the country's agricultural production, had turned into a giant lake by 8 September.
Turkey and Bulgaria were also battered by rains from Storm Daniel. At least five people were killed after a flash flood swept through their campsite in Turkey's Kirklareli province.
Another two people died in Istanbul where the storms on 5 September inundated hundreds of homes and workplaces. Nightmarish scenes emerged of crowds trapped inside Başakşehir National Library.
Further along the Black Sea coast in Bulgaria's Burgas province, villagers were forced to evacuate from floodwaters which rose high enough to submerge cars. At least four people are known to have died in the country.
After passing through the Mediterranean Basin, Storm Daniel slammed into the northern coast of Libya on 9 September.
It caused unprecedented flooding, bursting the dams that protected the port city of Derna. 
This unleashed raging waters that swept away residential neighbourhoods on both banks of the Wadi Derna river.
Benghazi city was also hit by catastrophic flooding. As of Tuesday afternoon, the country's death toll had been estimated at 5,200 dead and 10,000 injured or missing.
Where else has seen lethal flooding in September?
Storm Daniel isn't the only deluge fuelled by climate change the world has seen this month.
In southern Brazil, a cyclone dumped more than 300 millimetres (nearly 12 inches) of rain on the state of Rio Grande do Sul in less than 24 hours, starting on 4 September.
This triggered floods and landslides that have killed at least 39 people. Governor Eduardo Leite said the death toll was the highest the state had ever seen due to a climate event.
Climate change also increased the intensity and frequency of tropical storms, which Hong Kong and parts of southern China also experienced last week.
Residual rainfall from Typhoon Haikui drenched Hong Kong with its heaviest precipitation since records began 140 years ago.
"I've never seen scenes like this before. Even during previous typhoons, it was never this severe. It's quite terrifying," 65-year-old Hong Kong assistant nurse Connie Cheung told Reuters.
At least two people were killed and hundreds hospitalised by the floodwaters, which submerged streets, tunnels and metro systems. Historic rainfall also pummelled the southern Chinese city of Shenzhen.
In Europe, the start of September brought devastating floods to Spain too. Bridges were torn down and cars swept away in the heaviest-hit regions southwest of Madrid.
The national death toll rose to 6 on 9 September. One 10-year-old boy was rescued after spending the night clinging to a tree.
"Climate scientists have been warning for decades this would happen. Have these places seen flooding in the past? Of course, but not all simultaneously," writes US climate activist Edgar McGregor on X (formerly Twitter).