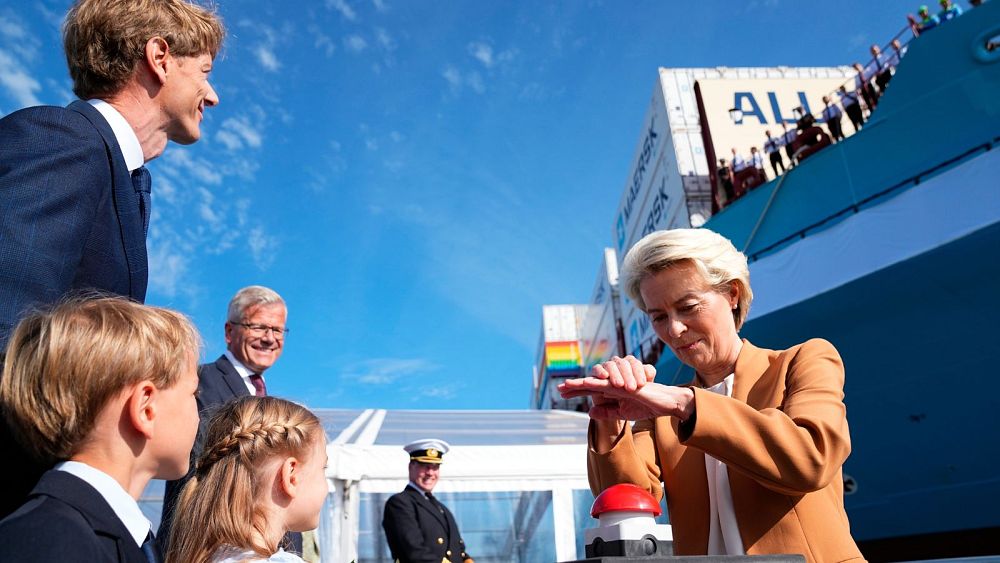 September 14, 2023

Staff

0
Denmark launches the world's 'first green container ship' but clean methanol still has cost and safety issues.
The world's "first green container ship" was christened in Denmark this morning (14 September) by European Commission president Ursula von der Leyen.
Laura Maersk – named after the Danish company that owns it – will be the first container ship to run entirely on green methanol.
It's a promising milestone for the international shipping industry, which produces around 3 per cent of greenhouse gas emissions and hopes to reach net zero by 2050.
"This ship, this moment, embodies Europe's decision to pioneer the fight against climate change," von der Leyen said during the naming ceremony in Copenhagen.
"When I took office a few years ago, the idea of a net zero shipping sector was nothing but a dream," she said, praising Maersk for seizing the opportunity provided by the European Green Deal and other factors, "with famous Danish foresight."
The 172-metre-long, sky blue boat is the first of 25 methanol-powered ships ordered by Maersk and set to sail by 2030.
This will save 2.75 million tonnes of CO2 per year, said von der Leyen. With the crowning glory that the green fuel will be produced by solar power in Denmark.
What is green methanol?
Methanol is a colourless liquid that can be used as a fuel source for engines. It's designated as green when made from low carbon sources such as hydrogen or biomass.
Compared to conventional fuels like gasoline or diesel, green methanol can cut CO2 emissions by 60-95 per cent, according to the Methanol Institute. It also has a lower sulphur content, reducing emissions of sulphur oxides which contribute to air pollution and acid rain.
Green methanol is quickly rising up the ranks as a clean energy solution, but it's not a perfect alternative.
Despite its environmental benefits, the World Economic Forum (WEF) notes that it has a cost issue, with production prices still higher than fossil fuel-produced methanol.
And there are safety concerns too, as methanol is toxic, flammable and potentially explosive – meaning it must be stored and handled carefully.
How big a solution is green methanol?
Green methanol production remains low, with less than 0.2 million tonnes produced annually, versus 98 million tonnes of conventional methanol made from fossil fuels, according to figures from the International Renewable Energy Agency (IRENA).
But the market for green methanol is growing, with more and more countries and industries recognising its potential.
As well as the maritime sector investing in the green fuel, China has started using it in buses and heavy-duty vehicles.
Maersk and the wider Danish industrial group to which it belongs, A.P. Moller, are doubling down on green methanol too. They have formed a new company, C2X, to produce clean methanol and are targeting an annual output of more than three million tonnes by 2030.
Large-scale green methanol projects, including in the Spanish port of Huelva and near the Suez Canal in Egypt, will help meet this goal.
In her ceremony speech, von der Leyen also highlighted the role of clean hydrogen in Europe's energy transition. "By 2030 we aim to produce and import 20 million tonnes of renewable hydrogen each year in the EU," she said.
Where will the Laura Maersk sail to?
The world-first ship completed its maiden voyage from South Korea, where it was built, to Denmark in July.
Maersk says the giant vessel will stay in the Toldboden area of Copenhagen harbour for another week, and will provide "real operational experience" for the company's seafarers handling new engines and using green methanol as fuel.
"By successfully decarbonising shipping, we're not only promoting our fight against climate change, we're also creating new supply chains, new industries and thousands of new good jobs," von der Leyen said during the naming ceremony.
And if you're left wondering "why Laura?", a statement from Maersk explains that the name is "deeply rooted" in some of the company's early landmarks.
"When Captain Peter Maersk Moller bought his first steamship in 1886, he named her "Laura". With its steam engine, "Laura" was a product of the second industrial revolution, making its impact on the shipping industry significant."