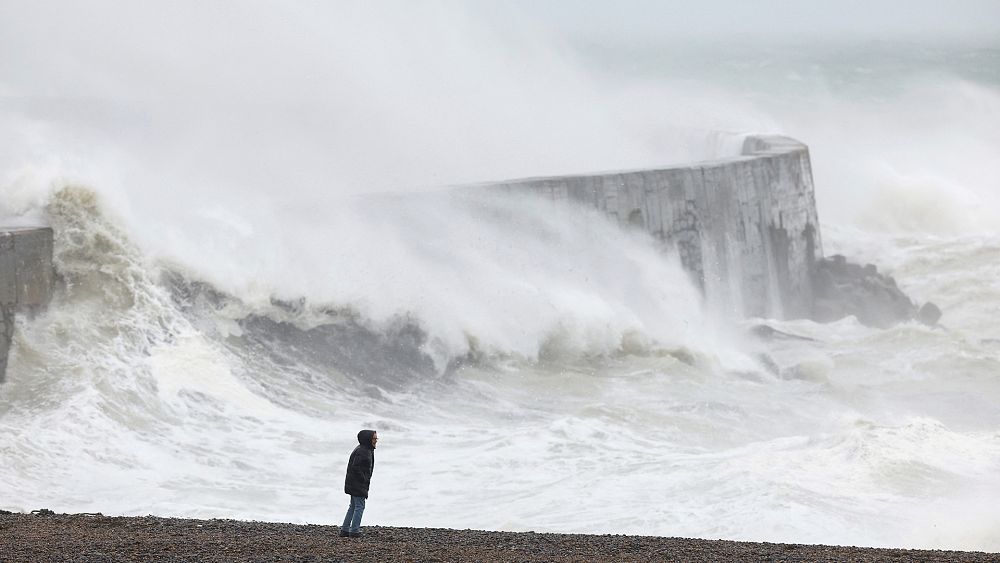 After record wind speeds, heavy rainfall, huge hailstones and tornados in northern Europe, we asked climate experts what impact climate change is having on this extreme weather.
Storm Ciarán has battered northern Europe with hurricane-strength winds and heavy rain leaving millions without power.
The Channel Islands saw the worst of the storm on Wednesday (1 November) night and the early hours of Thursday morning with the Jersey government saying wind speeds reached 164km/h. Ciarán also brought large hailstones and 9-metre waves with dozens of residents forced to evacuate their homes.
The Met Office confirmed that there had been a tornado and hurricane-force winds overnight in Jersey.
Record-breaking strong winds hit France's northern and western coasts on Wednesday evening. Continuing overnight, they caused widespread damage across the region, killing a truck driver and leaving millions without power. 
In Finistere and Côtes-d'Armor, wind speeds of more than 180km/h were recorded at the coast with numerous records broken, according to Météo-France.
On the southern coast of England, Storm Ciarán has brought power cuts in Cornwall and threats of flooding. The Environment Agency has warned that flooding is expected in 77 areas across the region. More than 150 alerts for possible flooding are in place across England.
The island of Portland in Dorset, which is only reachable by a narrow causeway, was cut off from the mainland and had to sound its flood alert siren for only the second time in nine years.
Storm Ciarán comes less than two weeks after Storm Babet brought strong winds, heavy rainfall and flash flooding to parts of northern Europe. 
Is climate change making weather events like Storm Ciarán worse?
Scientists still have to properly study Storm Ciarán and the exact influence of climate change on these weather events isn't known.
"An attribution study will need to be conducted after the event to determine how likely this storm's intensity was due to anthropogenic climate change," says Dr Melissa Lazenby, a lecturer in climate change at the University of Sussex.
The factors that cause storms to form and be maintained are complex. But some, like the extent of sea ice in regions close to the poles, the strength and position of jet streams, sea surface temperatures and climate patterns such as El Nino, are likely to be affected by climate change. 
"Climate change will affect these four factors differently and some will cause more intense storms and others will weaken them, hence there being no consensus about how much influence climate change is having on these storms," Dr Lazenby adds.
Wind strength and the frequency of storms vary from year to year and significant trends haven't been seen in recent climate observations. 
Is climate change bringing more rain?
What we do know, however, is that climate change is likely influencing the increased rainfall seen in extreme storms like Ciarán.
"The reason being is due to every 1 degree of warming we experience, the atmosphere is able to hold 7 per cent more water vapour and therefore we see an increased chance of heavy rainfall associated with rainfall events," Dr Lazenby explains. 
There is also some evidence in climate projections to suggest that the frequency and intensity of storms could slightly increase.
"Climate change is warming both our oceans and our atmosphere, providing more fuel for storms to form and intensify, resulting in heavier downpours," says Ben Clarke, a researcher for World Weather Attribution at Imperial College London.
"If we continue to use fossil fuels at the same rate, we will pay ever growing costs as more frequent and intense storms impact the UK and Europe, and as dangerous weather becomes more common across the world."
Though some measures are in place to deal with these types of storms, more needs to be done on the local and national scale.
"Early warning systems need to be in place for such events and measures such as flood defences and improved drainage need to be implemented where required," says Dr Lazenby.
"We are expecting more intense rainfall due to climate change on the whole and therefore measures need to be developed and implemented to build resilience against heavy rainfall."